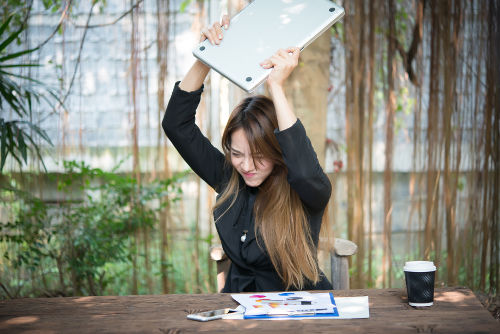 Reporting California Labor Law Violations
19 Aug 2017
Reporting a California Labor Law violation can be a frightening but necessary task for aggrieved workers subjected to wage theft. Sometimes filing a wage claim seeking monetary compensation is not enough because it's personal. If you are facing a similar scenario, reporting a violation to the Bureau of Field Enforcement ("BOFE") might be the perfect opportunity to punish your employer and ensure that other workers are protected.
What Is The Bureau of Field Enforcement?
The BOFE is the investigative and enforcement arm of the Department of Labor Standards Enforcement. The BOFE investigates and inspects employers' places of business for violations and enforces labor laws by conducting audits for unpaid wages, and thereafter issues citations and civil penalties for non-compliance when warranted. Actions by the BOFE include but are not limited to enforcement of minimum wage, overtime, workers compensation, child labor laws, and final paycheck California requirements. The BOFE also collects unpaid wages, and in necessary circumstances seeks injunctive relief from the courts to prevent further exploitation of workers.
California, the sixth largest economy in the world is powered by 711,000 businesses which employ over 13.4 million workers. As the economy grows, so does the incidents of wage theft. A 2014 study by the U.S. Department of Labor concluded that one in ten California workers are paid less than the minimum wage. Each week 372,000 violations of minimum wage law take place. Los Angeles County alone loses over twenty-six million dollars a week because of stolen wages. The table below demonstrates the effectiveness of the BOFE in penalizing and recovering stolen wages for workers.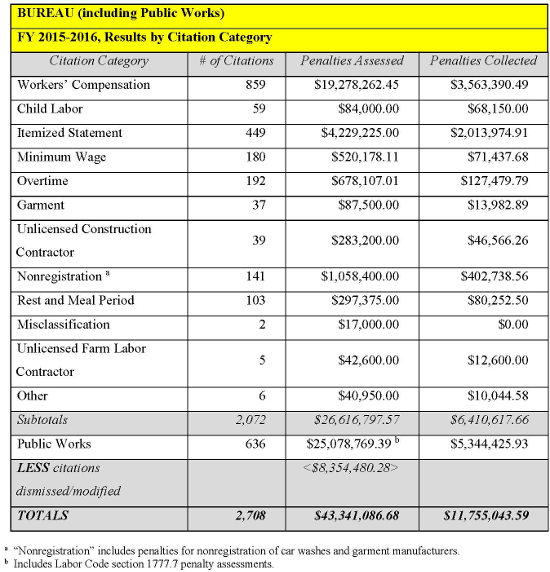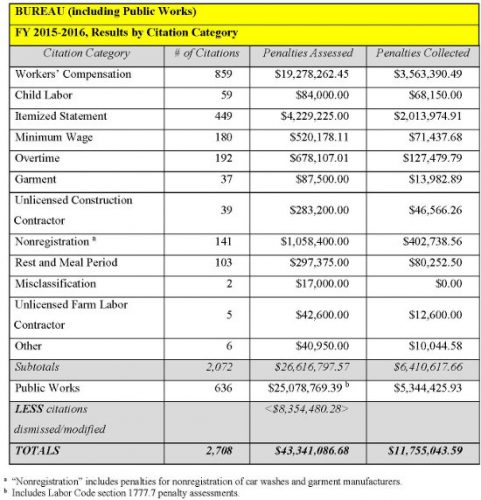 How Do I Report A Violation?
A report can be submitted online through the Department of Industrial Relations website. Alternatively, a pdf form can be downloaded and filed in person at the Labor Commissioner's office or mailed in. The "Report of Labor Law Violation" form has four sections that must be filled out. The entries require that you state what kind of violation you believe occurred. You can also retain a San Jose employment attorney to assist you in recovering your back wages in addition to reporting the violation to the local field office.
What Happens After I File A Report?
Inspections
Once a violation is reported, the BOFE commences an investigation which often means that the workplace is visited to conduct an inspection. Labor Code section 90.5 has provided the BOFE "free access to all places of labor." The employer is usually not notified prior to the visit taking place. During the first inspection workers compensation insurance status, time cards, payroll records, and postings are examined. Employees may also be interviewed. §90.5 also states that if your employer refuses to allow the inspector access to the workplace or fails to provide information, it is guilty of a misdemeanor punishable by a fine not more than $1,000.
The BOFE may also issue subpoenas to compel production of payroll records, and other documents. Witnesses and parties may also be compelled to appear for depositions in connection with the investigation. Failure to appear or cooperate can also mean that a party can be convicted of a misdemeanor.
Audits
If an inspection reveals that an employer has failed to pay wages to its employees, the BOFE will either perform an audit of all the records or request that the employer conduct a self-audit, which is supervised by the BOFE. Once a determination is made regarding the dollar amount that is owed to each employee, the BOFE will supervise the payments. If the employer still fails to pay the wages owed, the BOFE will pursue the matter and seek enforcement through the courts.
Citations
When wage and hour violations are discovered, the BOFE issues citations for monetary fines to employers. By Way of example, if the BOFE finds that your employer has failed to provide code compliant itemized wage statements pursuant to labor code 226, it will issue a citation in the form of a civil penalty of $250 per employee per violation for the first citation, and $1,000 per employee for each subsequent violation. The agency has its own discretion to decide if a mistake was inadvertent or clerical, in which case it may decide not to issue a penalty.